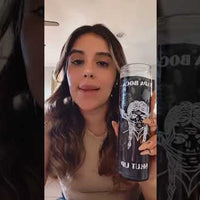 Shut Up (Tapa Boca) Candle-Blue/Black
Stop gossip! Stop rumors being spread!  Stop people talking behind your back! Protection against people who try to harass, harm or impair you through rumors or gossip. Shut The Mouths of All Enemies And Return all Jinx, Hex, Curses back to the sender that sent them. 
At some point of time or another we experience a gossiper, who wants to cause trouble in our lives because frankly their life is BORING. Sometimes, there are a variety of reasons that may be causing this to happen or simply you don't even know why this person can't seem to keep your name out of their mouth! And for various reasons  you from can't simply handle the matter face-to-face, or even civilly this is when we need Tapa Boca Energy. 
Gossip is powerful enough of an energy to create a lot of problems for an individual or victim. These people can become ill through mal de ojo, lose their jobs, people can lose the respect of their friends and family, and people can lose their relationships and marriages. So this is serious business. The shut up candle is used exactly for these reasons to protect you from all your enemies negativity. This shut your mouth candle can be red, blue and black, or red and black, or simply black they can all be used to bring you protection from envious persons.
.:Advisory:.This product is sold as a curio ONLY and we make absolutely NO CLAIMS or GUARANTEES that it will produce any tangible results whatsoever. Buyer assumes all responsibility for purchase and releases the seller from all liability. Sold for entertainment purposes ONLY. None of Shop Cosmic Healing's herbs, roots, or elements is meant for consumption or medical use.
Candle will burn up to 120 hours.
Its dimensions are 2 1/2" wide and 8 1/8" tall.
Made of 100% Paraffin Wax with a clean burning lead free cotton wick.
Color pigment & image may slightly vary from photo.

Dressed candles:
When ordering a dressed candle please give a brief (2 sentence) explanation of your situation in the notes box at check out in order to use the correct herbs/oils/prayers for your situation.

Working this candle: Dress the candle with any jinx removing oil, protection oil, uncrossing oil, etc. Pray Psalms 54, 70, & 34.

For Maximum effect, it is wise to burn at least a set of 3 of candles for 21 days. My recommendation is to utilize 1 Saint Candle St. Ramon or St. Benedict (who you'll offer the petition to) , this candle and Ajo Macho (Male Garlic) candle that will add energy to the petition.

Directions: Burn at a quiet time, when you can concentrate on your desires. When lighting think/speak into candle your intention. For maximum results, do not blow the candle out-SNUFF IT OUT. For safety be careful when handling candle while burning, the glass can be hot to the touch. Keep away from reach of children and pets.
Discover the Perfect Solution for Your Unique Needs
Let Our Spiritualists Choose A Candle For You
Discover the power of candle magic with our expertly chosen selection. Our knowledgeable spiritualists will handpick the perfect candle for your unique needs. Ignite positive energy and manifest your desires with our hand-picked candles. Explore now and experience true spiritual transformation.
Book a Session Now