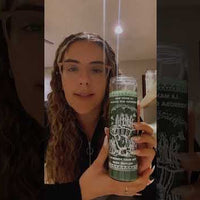 Most Powerful Helping Hand (La Mano Poderosa)-Green For emergency intercession of God, the Saints, Angels
The Most Powerful Helping Hand is the emergency intercession of God, the Saints, His Angels and all the spirits of the Divine.
Called upon in times of great need (commonly called upon during lawsuits and criminal court cases), The Most Powerful Helping Hand will protect, guide and relieve you from your struggles.

This candle is available as is or as a spiritual blessed candle dressed with herbs, oils, & prayers.

Candle will burn up to 120 hours.
Its dimensions are 2 1/2" wide and 8 1/8" tall.
Made of 100% Paraffin Wax with a clean burning lead free cotton wick.
Color pigment & image may slightly vary from photo.

Dressed candles:
When ordering a dressed candle please give a brief (2 sentence) explanation of your situation in the notes box at check out in order to use the correct herbs & prayers for your situation.

Directions: Burn at a quiet time, when you can concentrate on your desires. When lighting think/speak into candle your intention. For maximum results, do not blow the candle out-SNUFF IT OUT. For safety be careful when handling candle while burning, the glass can be hot to the touch. Keep away from reach of children and pets.

Suggested Prayer: "I place my Christian soul before thee, and in my despair and anguish beseech thee to bring the most powerful strength of my helping hand to come to aid. I place devotion of my sorrowful heart at thy feet that I may be pardoned from a destiny of suffering. May the loving kindness of thy powerful hand help me and give me strength and wisdom to live in peace and happiness."
Discover the Perfect Solution for Your Unique Needs
Let Our Spiritualists Choose A Candle For You
Discover the power of candle magic with our expertly chosen selection. Our knowledgeable spiritualists will handpick the perfect candle for your unique needs. Ignite positive energy and manifest your desires with our hand-picked candles. Explore now and experience true spiritual transformation.
Book a Session Now