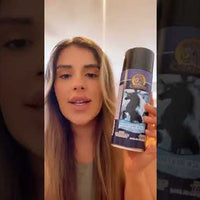 Black Destroyer (Negro Destrutor) Aerosol Spray 14.4oz To break a curse, banish bad luck, get rid of negative energy, etc.
Protect yourself from the devil's evil plan! With this special blessed Destroy Evil spray, the devil will run and be gone for good! Use it daily to get rid of it fast!
Feel the curse of bad luck? Not sure why you're not hitting those lucky numbers? Break the spell that was put on you with this spray. Use in your home, place of business or car. Be free now of that curse you didn't know you had.
Spray in your home or business to do away with the bad intentions sent your way allowing you to proceed ahead free of spells & hexes to a brighter safer more successful future.
.:NOTICE:

 

Sprays and colognes can only be shipped in continental U.S. 

and must be shipped ground via USPS

 

DO NOT order if you're an international customer:. 
.:All spiritual products of any type are sold as a curio and meant to be for entertainment purposes only, and in no way constitute legal, financial, medical or other advice. Information within this site is metaphysical in nature and is by no means medical:.
Discover the Perfect Solution for Your Unique Needs
Let Our Spiritualists Choose A Candle For You
Discover the power of candle magic with our expertly chosen selection. Our knowledgeable spiritualists will handpick the perfect candle for your unique needs. Ignite positive energy and manifest your desires with our hand-picked candles. Explore now and experience true spiritual transformation.
Book a Session Now