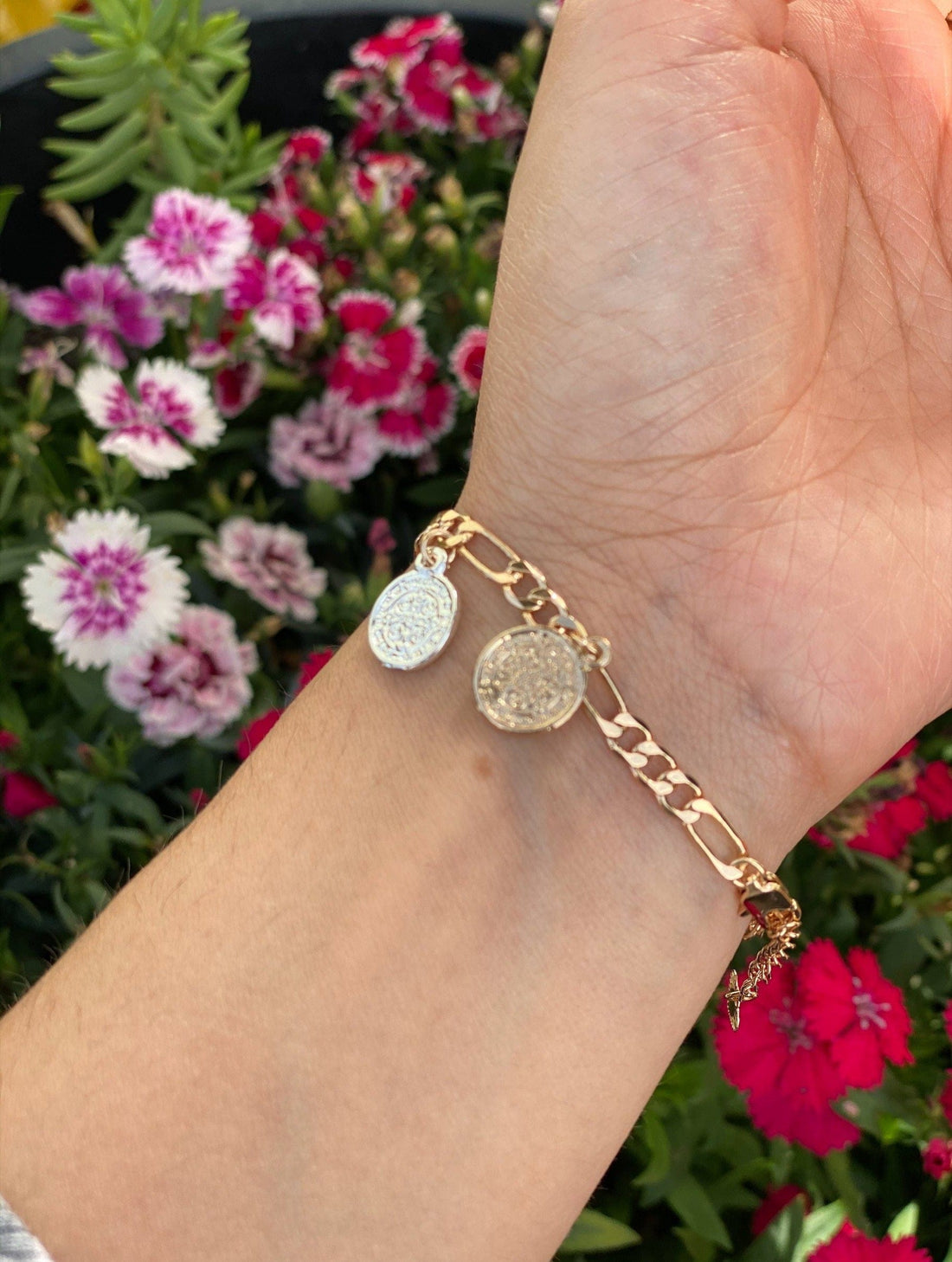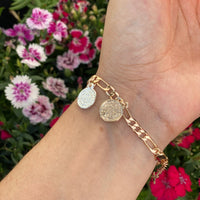 San Benito Dangling Charm Tri-Gold Bracelet
Gorgeous Gold Filled Stainless Steel Saint Benedict Medal Charm Bracelet.
Description:

- Necklace Pendant, Charm
- Material: Gold Filled Stainless Steel
- Size: 20mm x 30 mm 
- Color: Gold, Rose Gold, Silver
In energy work, this bracelet can become a talisman and charged with energies that are to protect the wearer. It is believed that the left side of the body is the receiving side, so wearing it on the left side allows the receiving of good fortunes and luck to come to you. You may purchased a blessed amulet or purchase it plain and use as is without it being charged.
St. Benito is a Catholic Saint & Patron of protection from the evil one (the devil, enemies, frenemies, psychic attacks). Why does the devil fear his medal? The short answer is that the devil fears the Lord. When a person carries the Saint Benedict Medal or the Saint Benedict Crucifix, it is a constant reminder to that person to think of Christ always, in effect, a continuous exorcism. Even at the mere mention of the name of Jesus Christ, the devil shrinks away. Because of the prayers on the medal and indulgences, this is a very efficacious medal for spiritual protection, and a reminder of the spiritual battle taking place between heaven and hell for the eternal possession of our souls. The use of sacramentals is never a replacement for living a holy life and remaining in a state of grace; rather, they are aids to help us persevere in our Catholic faith.

Gold plated products are durable; however, please remember to apply beauty products such as perfume, hairspray or deodorant before wearing your jewelry as certain chemicals in these products may damage the finish.
Always remove your jewelry before swimming, bathing, doing household chores or using abrasive cleaners.

To clean your jewelry just use warm water and a soft cloth and it will regain its shiny finish. 
Thank you for considering healing with us we appreciate it !!

PLAIN BRACELET: Sold as is plain bracelet.
BLESSED: This bracelet has been blessed & prayed over to energize the talisman to imbue the wearer with powerful protection so long as they wear it.
**If ordering a blessed bracelet please allow for 1 week of date of purchase for your order to be shipped as this ritual is conducted once a week on the day of Saturn**


Thank you for considering healing with us we appreciate it !!

.:NOTE:. When ordering a blessed charm please include Full Name & DOB of wearer or home owner in personalization box at checkout. It is the buyer's responsibility to submit requested information as it is imperative to enchantment. Buyer be advised failure to submit full details requested will result in sending a plain item**

.:.All spiritual products of any type are sold as a curio and meant to be for entertainment purposes only, and in no way constitute legal, financial, medical or other advice. Information within this site is metaphysical in nature and is by no means medical.:.
Discover the Perfect Solution for Your Unique Needs
Let Our Spiritualists Choose A Candle For You
Discover the power of candle magic with our expertly chosen selection. Our knowledgeable spiritualists will handpick the perfect candle for your unique needs. Ignite positive energy and manifest your desires with our hand-picked candles. Explore now and experience true spiritual transformation.
Book a Session Now