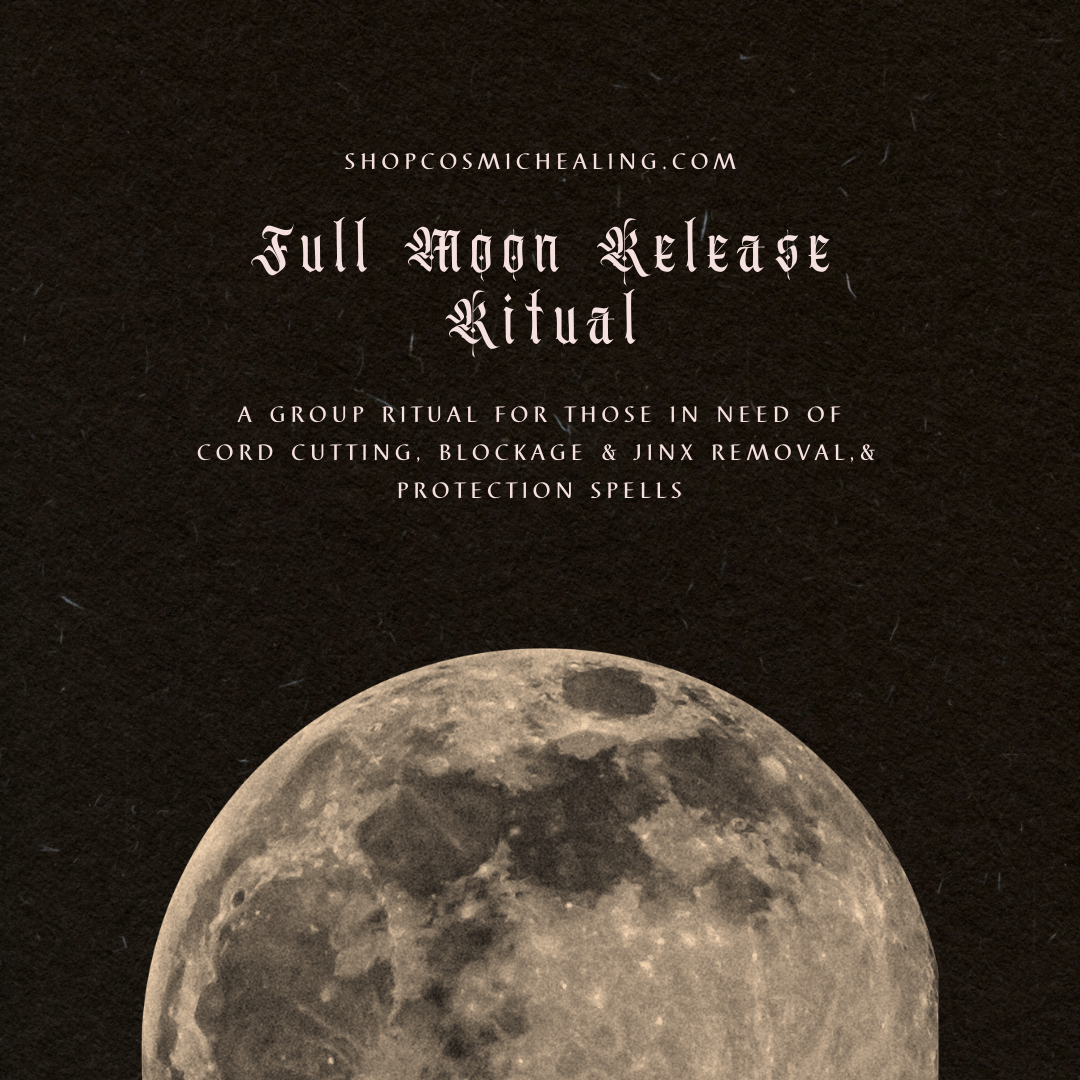 Every Full Moon provides us the opportunity to release what no longer serves us so that we can make room for that which we desire, want, and deserve in our lives. Don't miss out on the opportunity to release what no longer serves you!
Join us for a Full Moon Ritual! This is a great opportunity to set a new intention, release what no longer serves you, and start feeling better about yourself and your life. 
Ritual Focus:
Remove spiritual Jinxes & Blockages

For when you need a to cut cords/ties


For when you need protection from Evil Eye

For when you ned protection from enemies

Release the past, in order to create space for what you want in your life
Unleash your full potential by releasing that which does not serve you!
All glass encased candles will be fixed, dressed, prayed-over, and fully prepared.
-When your candle has completed its burn, you will receive a brief Divinatory Candle Report telling you the outcome of our work done on your behalf.
The report will be sent to you via email message unless you select another method .
***BEFORE PURCHASING MESSAGE SHOP OWNER via chat feature  or Email hello@shopcosmichealing.com TO DETERMINE THE BEST WAY TO ASSIST YOU & YOUR SITUATION***
HOW IT WORKS:
How to Make a Petition:

 

Contact Shop owner to discuss petition needs.
(via chat feature or Email hello@shopcosmichealing.com)
Purchase listing 
Candle will be dressed, blessed, oiled, herbed, and lit on altar
A photo & glass reading of finished candle will be provided Your Candle Report will contain a true account of all the spiritual signs and omens seen in your candle. We may include our thoughts about the potential outcome of your petition and prayers, and we may make recommendations for further prayers, candle work, or spell-casting based on the signs left in the candle glass.
Discover the Perfect Solution for Your Unique Needs
Let Our Spiritualists Choose A Candle For You
Discover the power of candle magic with our expertly chosen selection. Our knowledgeable spiritualists will handpick the perfect candle for your unique needs. Ignite positive energy and manifest your desires with our hand-picked candles. Explore now and experience true spiritual transformation.
Book a Session Now